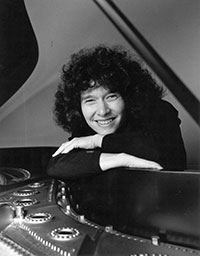 Catherine Kautsky
piano
Hommage à Schubert

Wednesday, June 15th, 2016 - 7:00 pm

This concert centers around a large work by Schubert, written early in the nineteenth century, and two smaller works written in homage to him, one from the early 20th century, and the other written just three years ago, in the 21st century.
PROGRAM:

Sonate en Ré majeur, D. 850 (1825) - Franz Schubert (1797-1828)
I. Allegro
II. Con moto
III. Scherzo: Allegro vivace
IV. Rondo: Allegro moderato

Idyll and abyss: Six Schubert reminiscences for piano (2013) - Jörg Widmann (1973- )
I. Unreal, from afar
II. Allegretto un poco agitato
III. Like a music box about to run down, quasi lullaby, very irregularly,
very slowly, left and right never completely superimposed
IV. Scherzando
V. Quarter note=ca.50
VI. Sad, desolate

Valses nobles et sentimentales (1911) - Maurice Ravel (1875-1937)
I. Modéré—très franc
II. Assez lent
III. Modéré
IV. Assez animé
V. Presque lent—dans un sentiment intime
VI. Vif
VII. Moins vif
VIII. Epilogue: Lent
BIOGRAPHY:

CATHERINE KAUTSKY, Chair of Keyboard at Lawrence University, has been lauded by the New York Times as "a pianist who can play Mozart and Schubert as though their sentiments and habits of speech coincided exactly with hers..." whose "music spoke directly to the listener, with neither obfuscation nor pretense."
Her recent recording of the complete Debussy Preludes, released in Sept. 2014 by Centaur was said to "bring out all the power, majesty, and mystery of Debussy's conception." Catherine Kautsky has concertized widely, performing in Alice Tully Hall, Carnegie Recital Hall, the Phillips Collection and other prestigious venues in the United States and appearing abroad in France, England, Italy, Spain, China, Hong Kong, Korea, Thailand, Brazil, Australia, and South Africa. She teaches and performs at the Interharmony International Music Festival in Arcidosso, Italy during the summers and recently returned from performances in China, Hong Kong, and Thailand.
Prof. Kautsky has taught at Lawrence since 1987, with a 6 -year hiatus at University of Wisconsin-Madison. A devoted teacher, her students are laureates of numerous competitions, both local and national. Catherine Kautsky is known for her cross-disciplinary interests and was awarded the Arts Institute Creative Arts Award at UW-Madison. Her frequent presentations at national conferences include topics such as "On the Trail of Chopin and George Sand," "WWI: A Centenary Look at the Musical Wars, " and "Celebrating Debussy and the Arts du Spectacle". Her articles have appeared in Clavier, American Music Teacher, and International Piano, and her book on the social history of Debussy's piano music will appear in 2017.
Website: http://faculty.lawrence.edu/kautskyc/

CATHERINE KAUTSKY, titulaire de la Chaire de piano à Lawrence University (Wisconsin), a été saluée par le New York Times qui l'a qualifiée de « pianiste qui peut jouer Mozart et Schubert comme si leurs sentiments et leurs façons de s'exprimer coïncidaient exactement avec les siens... et dont la musique parle directement à l'auditeur, sans jamais l'obscurcir et sans prétention. »
Son récent enregistrement des Préludes de Debussy a été considéré de nature à « faire ressortir toute la puissance, la majesté, et le mystère de la conception de Debussy. » Catherine Kautsky, qui a eu pour enseignants Rosina Lhevinne, Leon Fleisher, Martin Canin, et Gilbert Kalish a donné de nombreux concerts, se produisant à Alice Tully Hall, à Carnegie Recital Hall, à la Collection Phillips et dans d'autres lieux prestigieux aux États-Unis ainsi qu'à l'étranger (France, Angleterre, Ialie, Espagne, Chine, Hong Kong, Corée,Thaïlande, Brésil, Australie, Afrique du Sud).
Catherine Kautsky enseigne à Lawrence University (Wisconsin) depuis 1987, avec une interruption de six ans pendant lesquels elle a été titulaire de la chaire de piano à l'Université du Wisconsin, à Madison. Connue pour son intérêt pour l'interdisciplinarité, elle a reçu le Arts Institute Creative Arts Award à l'Université du Wisconsin et a présenté fréquemment des conférences à la Music Teachers National Association (MTNA) sur des sujets tels que « Chopin et George Sand », « la Première Guerre mondiale: les musiques de guerre » ou encore « Debussy et des Arts du Spectacle. »
Catherine Kaustky a publié dans des revues internationales et prépare un livre sur l'histoire sociale de la musique pour piano de Debussy qui paraîtra en 2017.
Site internet : http://faculty.lawrence.edu/kautskyc/